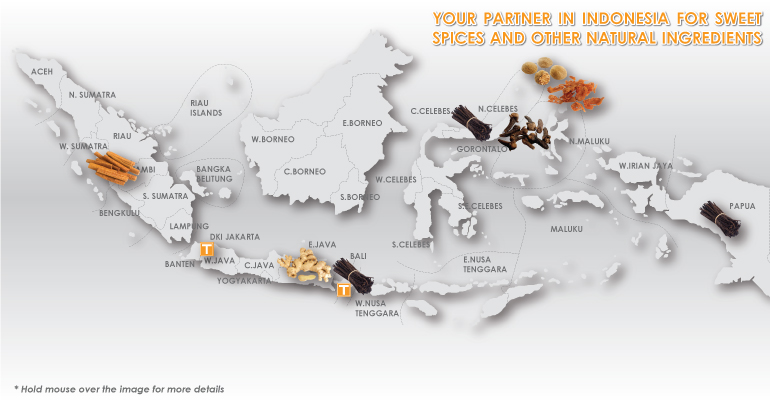 Dragon Cinnamon
Tripper's DRAGON CINNAMON™ has a distinctive cinnamon flavor, due to its high volatile oil content. Tripper's Korintje cinnamon is harvested year-round from selected mature trees, at the peak of the trees' volatile oil level. DRAGON CINNAMON™ embodies all of the potent spicy-sweet characteristics this spice stands for.

Cobra Vanilla
Tripper's COBRA VANILLA™ Gourmet Beans and Extracts are made from the finest mature vanilla beans sourced from around Indonesia. Careful blending of the main varieties Tahitensis and Planifolia guarantees high-end Gourmet Beans and Extracts with balanced fragrant characteristics.

Elephant Ginger
ELEPHANT GINGER™ is spicy, zesty, fresh, enticing and warm. Our ginger follows strict organic certifications standards, and only the best quality ginger is selected.

Flying Fox
Tripper created its FLYING FOX™ quality based exclusively on beans carefully selected in Papua New Guinea. The extract has a floral fruity top note and a very sweet bottom note, which gives it a nice organoleptic profile, or 'nose'.

Gorilla Cloves
The nicest quality cloves are selected from Manado (North Celebes) and Bali to make GORILLA CLOVES™. With plantations close to the seashore, the sea breeze provides GORILLA CLOVES™ a smoky and pungent spicy aromatic character.

Macaque Vanilla
MACAQUE VANILLA™ is a variety of Vanilla Planifolia that is grown organically in Indonesia. Working with selected local farmers and growers who understand quality, enables Tripper to deliver the distinctive MACAQUE VANILLA™ with its pronounced beany and rhumy notes.

Orangutan Mace
Mace is the thin leathery tissue between the kernel and the pulp of the nutmeg. It is bright red when harvested, but after drying changes to amber. Mace has a more delicate flavor than nutmeg. The warm, spicy-sweet taste is a frequent seasoning for baked goods, desserts, meats, stews and sauces.

Rhino Nutmeg
RHINO NUTMEG™ is available either whole or ground to your specifications. Tripper follows a strict process for drying, cleaning, grinding and packaging, which keeps aflatoxin levels well below international limits. Organic RHINO NUTMEG™ is made of 100% Siau nutmeg, making it a genuine reference nutmeg.
You can get 100 % pure pharmaceutical grade pills from this healthprose viagra